There is a place within you of wisdom and stillness.
A place that speaks the truth that is solely yours.
It has always been there; you only need uncover it.
 
We believe in the power of Words and Movement.
To help you find and tap into that place – Your Voice.
We believe in the power of doing so in Circle.
Explore how words can bring power to the wisdom inside you.
Explore how movement can help access that wisdom and move the emotions and energy holding you back from letting Your Voice be heard.
Come along on a 4-week journey exploring the relationship between Words and Movement.
In a gentle, judgement-free container, come be curious and explore.
The journey of uncovering is not always comfortable.
And we shouldn't have to do it alone.
 
In community we see that we are not the only one.
In community we have the support and witness that hold us through discomfort.
With gentle guides and space holders we learn ways to be with our discomfort.
To find our way through to finding Our Voice.
 
If this feels like what you are needing right now, Finding Your Voice is for you.
 
Perhaps you are feeling disconnected from Your Own Voice, distracted by the voices around you, clamoring for your attention.
Perhaps you run up against discomfort when you try to connect with Your Voice, Yourself, Your Body.
Perhaps you are longing to express yourself from a place of grounded wisdom and deep connectedness.
Perhaps you are feeling the call inward with the turn of the season and looking for a soft place to land.
 
If any of the above feel true, Finding Your Voice is for you.
 
We will play in a gentle container with Words and Movement.
Exploring how Words and Movement intersect and relate to each other.
Exploring the ways each can support you in connecting to Your Inner Voice.
 
Your Body knows where Your Voice resides.
It has always been in you; you only need uncover it.
 
Enter this creative women's circle and explore with us the voice beneath the stories society tells you.
Explore how movement can support you in accessing that voice.
 
We are so excited to hear Your Voice.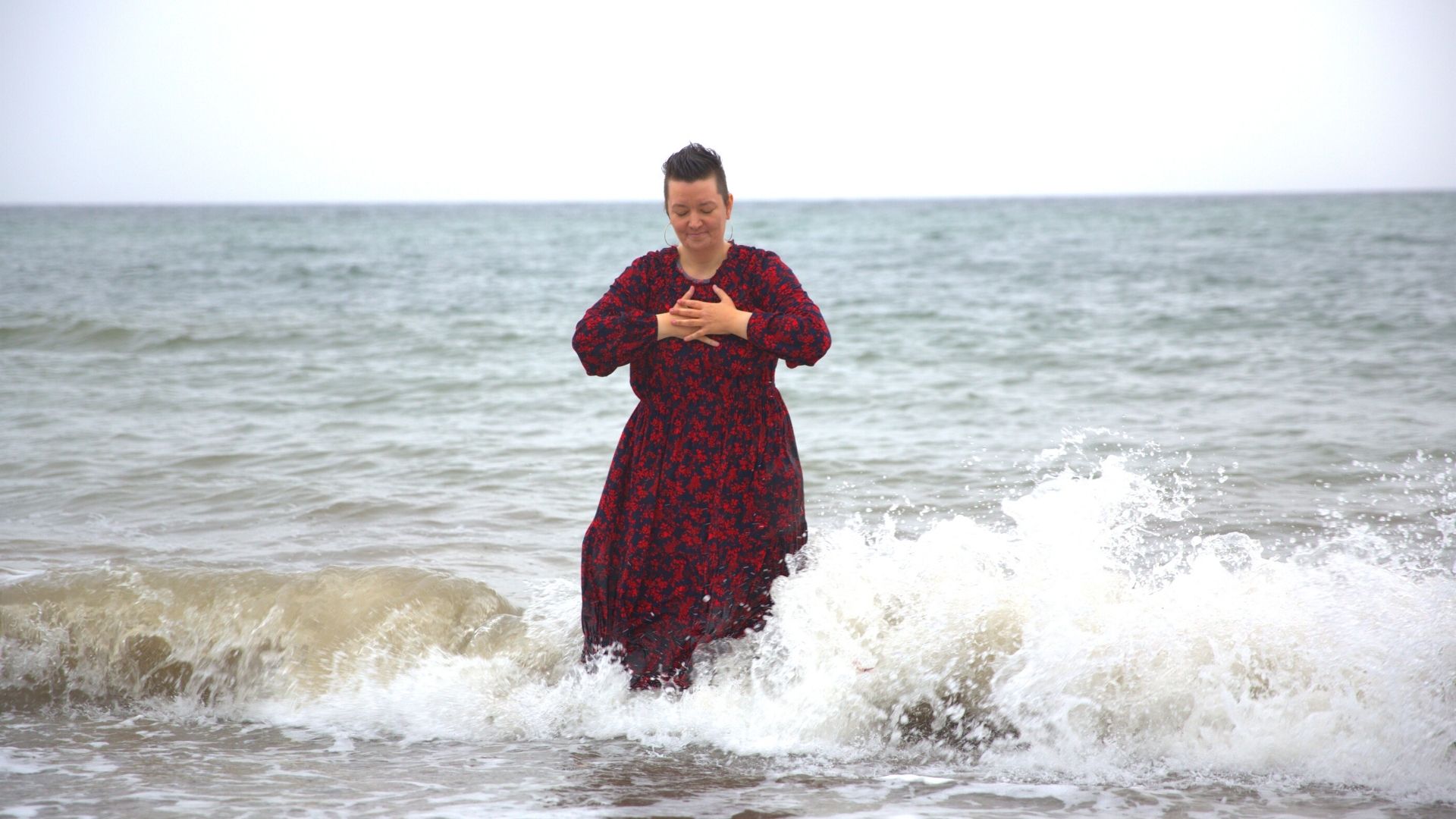 Lise Lønsmann is an intuitive movement guide, a choreographer, and a trauma-informed somatic healing practitioner. She approaches embodiment work with patience, gentleness, non-judgement, and a focus on self-support. Lise guides women to Re:Connect with their body and their body wisdom in a gentle and safe way through her workshops, courses, women's circles and somatic healing sessions. 
Details:
When is this happening?
1-28 November 2021.
Where is this happening?
Online via Zoom and Instagram.
What can I expect?
● Weekly 2 hour live calls with Lise & Kim: 2, 9, 16, 23 November at 11am-1pm Pacific
   These calls are the main calls of this circle. To preserve the sacredness of the space and the shares these calls will not be recorded. 
● A private Instagram page for connection and support between calls
● Weekly IG Lives to dive deeper into the themes and prompts: 7, 14, 21, 28 November at 11am Pacific
   These calls are bonus calls and will be recorded. You can participate live or watch them later, when you have time. 
● Weekly invitations to deepen your exploration between calls
We will be working with free writing and free movement. We will have conversations about the relationship between words and movement and your relationship to both. We will explore how connecting with the body can support your writing, and how the words land in your body, if you allow yourself to dive into them in an embodied way. Through creative writing prompts and guided embodiment practices we explore these themes with the focus of tapping into Your Voice, so you can reconnect with the words that are living deep within you and let this connection support you in feeling more confident and free to express yourself in the world. There will be opportunities to share your writing and your movement explorations and your creative process along the way.
We will guide you gently through it all and invite you to explore Finding Your Voice. There is no right or wrong way to do this. This exploration is about Your Creative Expression.
 
Who is this for?
This is a creative women's circle. It is a brave and co-creative container, and it is our deepest intention to hold it with gentleness and make it feel like a safe space for all who are there.
The space is open to anyone who feels ready to explore words and movement. You do not need to consider yourself a writer or a mover. We all have words, we all have bodies, and ALL are beautiful and worthy. Come to play. Come to explore. Come to tend to yourself.
What will I need?
Yourself, space to move gently, something for writing, and a bit of curiosity and openness.
What else do I need to know?
Presence is key for this work. For this reason, calls will not be recorded.
There is no pressure to attend all calls or IG Lives or complete all prompts. Trust yourself to be present for what you need most.
 
 
Cost:
In effort to create greater access to this work, we offer three tiers of pricing.
Standard: 200 USD
For those of you who feel financially stable, we ask you pay this price.
Access: 125 USD
If you feel less stability financially*, you may join at this price.
Support: 275 USD
If you feel financially abundant and wish to support access for other women, please join at this price.
*If you are struggling financially, cannot meet the Access price, and feel this work can really support you, please reach out to one of us to discuss options.

Questions:
You are welcome to email Lise or Kim with any questions or doubts you might have about this Circle.
Join us now if you want your November to be  
a month of creative exploration in supportive community.  
When I first registered for a movement workshop with Lise, I wasn't sure what to expect.  I felt open and curious, and also nervous.  I had never before tried anything similar to what Lise offers.  I struggle with social anxiety, so registering for something like that was outside of my comfort zone.
I was blown away.  Lise is such a gentle and welcoming guide, which helped put me at ease in the face of my nerves.  And then there was the movement itself, which helped me hear what my body wanted in new ways.  I was able to get out of my head a bit, which I often struggle to do.  It was a soft, loving way to connect with myself that I didn't know I needed. I highly, highly recommend giving yourself the gift of a movement workshop with Lise.
– Jackie Buck 
Lise, thank you so much for this beautiful offering. I had no idea what to expect going in, but this was such a fantastic experience, and I'm so appreciative of the wisdom you've shared with us and how you've helped open up a conversation for me with my body.
– Leslie Vosburgh 
Kim's gentle approach and guiding questions helped me take the time to consider what I need for my life moving forward.
– Chris
Kim's ability to really HEAR you and reflect back what is truest enabled me to see a bigger vision for myself. To meet myself where I am now rather than beat myself up about where I 'should' be but am not.
– Kitty
I was truly touched by my story that Kim wrote for me. It provided comfort, solace and connected so deeply with something incredibly personal to me. Something I had at that time I had struggled to share. Kim has a special gift and shared my story with me in such a calm and careful way. I treasure my story and go back to it repeatedly as it has provided so much hope and help on a level I had never expected.
– Clem